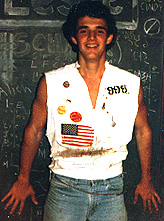 Me as 16-year old Halloween punk, 1978.



me, helping Big Boy with his burger (in South Carollna, 1980) click to zoom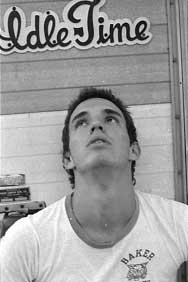 college boy posing with the camper top that gave me the name one night at Duke's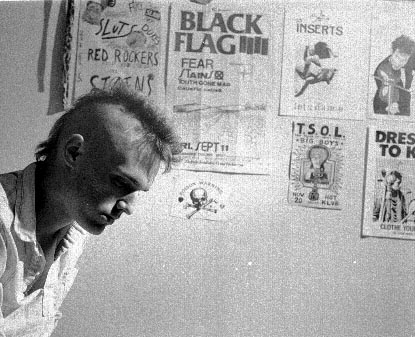 Me after seeing Black Flag at The Island, 1981. Changed ma life.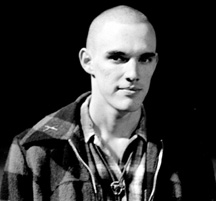 Skins are in. Oi Oi Oi. Nah, I had just shaved the mohawk off.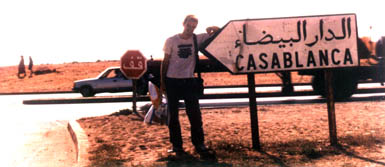 International traveler bum, not long before returning for Woodshock '86..

---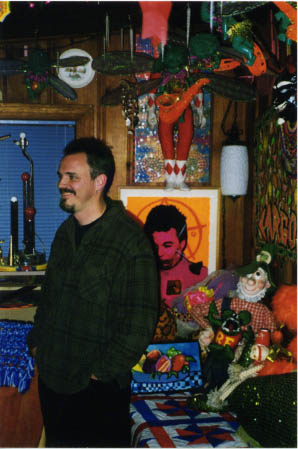 And a more recent photo, taken at Biscuit's house, by Scott, the Big Boys website guy.
---
A brief history of Idle Time that I wrote for Left of the Dial (Houston 'zine), in January 2004, when LOTD ran a bunch of my photos:

I missed the Sex Pistols at Randy's Rodeo in San Antonio (January 1978). I was 15 and had just gotten my learner's permit, so I couldn't drive there. I didn't know anyone who was going. I probably wouldn't have even gotten in. I was bummed. Now why I went to see Styx the next month, at Austin's City Coliseum, is anybody's guess. It wasn't a very satisfactory consolation prize. But the Sex Pistols... that would've been a pretty scary event. I had only recently gone to my first ever rock concert, Emerson, Lake, and Palmer. Sex Pistols would've been quite a second.

I didn't go to a 'new wave' show until later that year, when the Talking Heads came to the Armadillo World Headquarters. It was a strange time, musically, and much has been written about it. Punk or new wave was gaining momentum and notoriety, but heavy metal and the prog monsters still ruled the day. I wasn't too picky in my early concert-going days. I liked some prog and some heavy metal.

But then I went to Raul's, Austin's notorious little punk dive near campus. That was different. That was a revelation. I could see the bands up close, instead of far away in a haze of smoke and lasers. That pretty much put an end to the big rock shows for me. I became a convert to the cult of punk rock. I'm just eternally grateful that laws were more lax then. I was in high school, had just turned 17, when I first went to Raul's. 18 was the drinking age, but it just wasn't all that strictly enforced.

I graduated from high school and, after a fun summer dedicated to punk rock and my punk rock girlfriend, I took off for college in far north Texas, an hour and half north of Dallas. I wasn't about to go to UT (The University of Texas at Austin) - I saw UT as one huge frat house. Plus it was huge. I went to tiny Austin College in Sherman - 2200 students, most of whom looked like hippies to me. I felt like I'd beamed in from the future. The punk future.

Within a week of moving into the dorm, I started a 'zine called Idle Time. It was a way to stay connected to the Austin scene... it was my love letter home. I made the long trip down I-75 and I-35 to Austin quite often, catching rides with friends or strangers or taking the Greyhound Bus, making pilgrimages to Raul's and Duke's Royal Coach Inn. But I also met the only other punk on campus - who just happened to have a car - so we'd make the much shorter trip to Dallas' Hot Klub to see touring bands like Mo-Dettes, Ultravox, and the Stranglers.

I'd been a photographer since the age of 9, I think, when my grandmother gave me an ancient box camera, a very primitive thing. I graduated from that to an Instamatic, then to a 35mm Yashica Rangefinder, and later to a Pentax K100 SLR. But I'd never taken my camera to Raul's, until I started Idle Time. I was a DIY journalist and photographer now. The first time I took my camera to Raul's was when the Psychedelic Furs came through on their first US tour, when hardly anyone had heard of them.

But from then on, I quite often had my camera at shows. I had a job to do. The Big Boys were especially supportive of my efforts; they made me feel like part of the scene, like I was contributing something. They were good that way. Very inclusive in what sometimes felt like an exclusive scene.

Idle Time was my main creative outlet. I loved cutting and pasting, the rub-on letters, typewritten or handwritten text, rubber cement, the whole DIY thing. It was sloppy and fun. I was never a perfectionist. I wish I'd been a little more careful about focus and exposure - but I didn't care then; any photo I took was just going to be photocopied anyway, so what the hell. It was just part of the collage that was Idle Time. I wasn't really thinking about the possibility of the photos being published 20 years later in a Real Magazine.